Independent Analytics displays the Page Type of every page in the data table.
Did you know? There are additional table columns you can show/hide for post categories, authors, and more. Learn how it works.
When someone uses the search bar on your site, the search results page they land on is given a Page Type of Search, and the page title is set to their search query.

The screenshot above shows a search results page from Compete Themes. Here you can see that two visitors searched for the term "mission news," which is a WP theme they offer.
The data table always includes search pages, but you can update it to display only search results by adding a filter.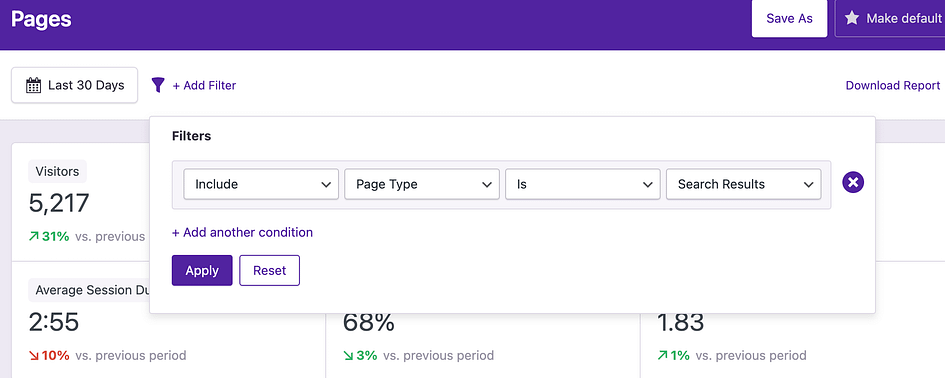 Add a condition like the one above that says the Page Type has to be Search Results. Then click the Apply button, and the dashboard will update to show you only search results pages.
This gives you a list of all the terms people have searched for, and you can see how many views and visitors each query received as well.
This data is also more accurate than you'll get from a search plugin with analytics because Independent Analytics ignores bots, which commonly spam WordPress search forms.
How to use this data
Data on your most popular search terms isn't just "nice to know," it's incredibly useful. Here are some ideas to improve your site with this data.
Create missing content
When reviewing your search terms, look for searches that you don't have any content for. This is a fantastic way to source new blog post and product ideas. People are essentially telling you what they want by searching for it.
Optimize your results
For your more popular search terms, try searching for them yourself and see what comes up. Make sure that the most relevant page is the first result and other relevant pages appear.
The default results in WordPress aren't very good, so you will likely want to add a new plugin to optimize your site's search experience. You can find a collection of free and paid search plugins here.
Promote content people search for
If there's an important topic that people are frequently searching for, it could be a sign that a resource on your site is too hard to find. In this case, you should give that resource more prominence on your site, whether that means putting it on the homepage or adding it to your primary menu.