One of the best insights you can draw from your analytics is which pages and referrers are growing or shrinking the most.
With the Visitors Growth & Views Growth columns, it's easier than ever to find pages and traffic sources like these.
How to find your fastest-growing pages
To see which pages are growing the most, start by clicking the Edit Columns button in the toolbar. Then check the Visitors Growth box to display it in the table below.
Next, click on the Visitors Growth column to sort by pages with the most growth.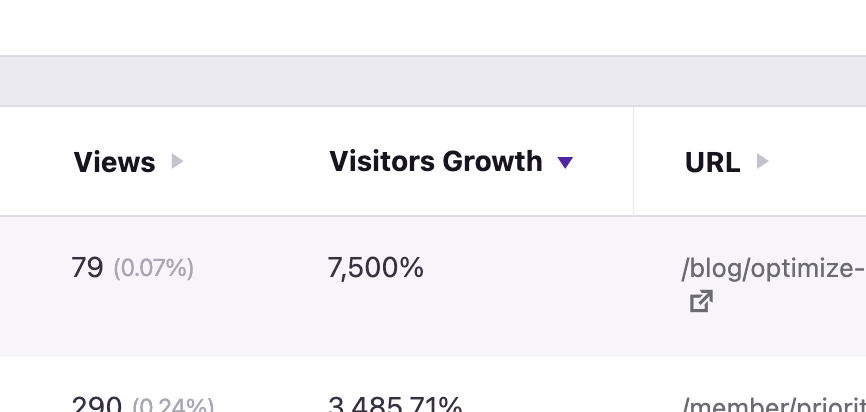 Something you'll notice right away is that some pages report massive change because their visitor count is low. For instance, a page that got 1 visitor last month and 5 this month will show growth of 500%. This is less significant than a page that grew by 50% because it got 1,000 visitors last month and 1,500 this month.
To address this, you can add a new filter with a minimum Visitors threshold. For instance, here's how you can require each page to have more than 50 visitors.
Once the data is filtered, you'll have a much better picture of your fastest-growing pages.
Evaluate your fastest-slowing pages too
It's just as useful to see the pages with declining performance. This can help you find blog posts that need republishing and signs that your keyword rankings may be dropping.
To find which pages have lost the most visitors, simply click the Visitors Growth column heading again to reverse-sort the table.
Don't forget to customize the date range
By default, the date range uses the last 30 days, and the growth comparison extends an equal range into the past. This means that if you choose a custom range with 10 days, the growth calculation will compare the preceding 10 days.
How you customize the date range will have a big impact on the growth calculations, and using a longer range will often give you a clearer picture.
For instance, if a page has been losing 10% of its visitors each month for half a year, it will never look that bad in the last 30 days because it will only show -10% growth. Displaying additional months will better showcase this change.
Likewise, it's important to monitor longer date ranges if you don't regularly review your page growth. Otherwise, you could have a page grow tremendously more than 30 days ago, and that increase won't show in your dashboard.
Repeat for traffic sources, geolocations, and campaigns
Now that you know how to find the fastest-growing and -slowing pages, you can repeat these same steps for every other menu.
You can display and sort by Visitors Growth on the Referrers, Geographic, and Campaigns menus. The Referrers menu is especially insightful because it allows you to see how much your traffic from Google has grown/shrunk.
If you're looking for more ways to find insights with Independent Analytics, check out this tutorial next: