Growing an eCommerce business is hard work.
Cart abandonment, ad spend ROI, product conversion rates – there are lots of metrics to optimize for.
While WooCommerce includes an excellent reporting dashboard itself, it won't answer all your questions.
For instance, you still won't know which organic channels drive the most sales, how much profit you're earning from each product, or which social platforms have the most profitable followers.
These are exactly the types of questions the WooCommerce analytics plugins here can answer.
Here are our top picks for adding additional analytics to your WooCommerce shop.
1. Independent Analytics
Independent Analytics is our free analytics solution for WordPress and WooCommerce. It installs in a few clicks and starts tracking data right away.
It's a much simpler alternative to Google Analytics and is GDPR-friendly because it doesn't use cookies or store personally identifiable information. Additionally, your data is created and stored entirely on your server without any outside communication.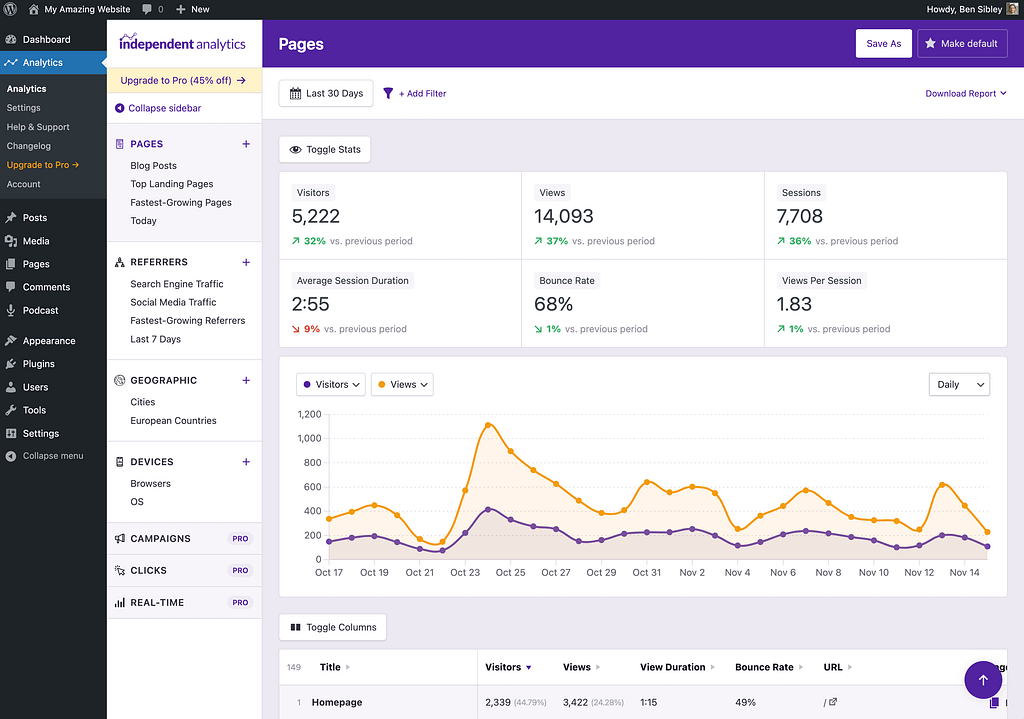 The free version will report on how many views your pages and products got, as well as where you're traffic is coming from.
The WooCommerce integration in the Pro version adds sales data to the dashboard. For instance, you can see exactly how much revenue you make from each referrer, geolocation, and campaign.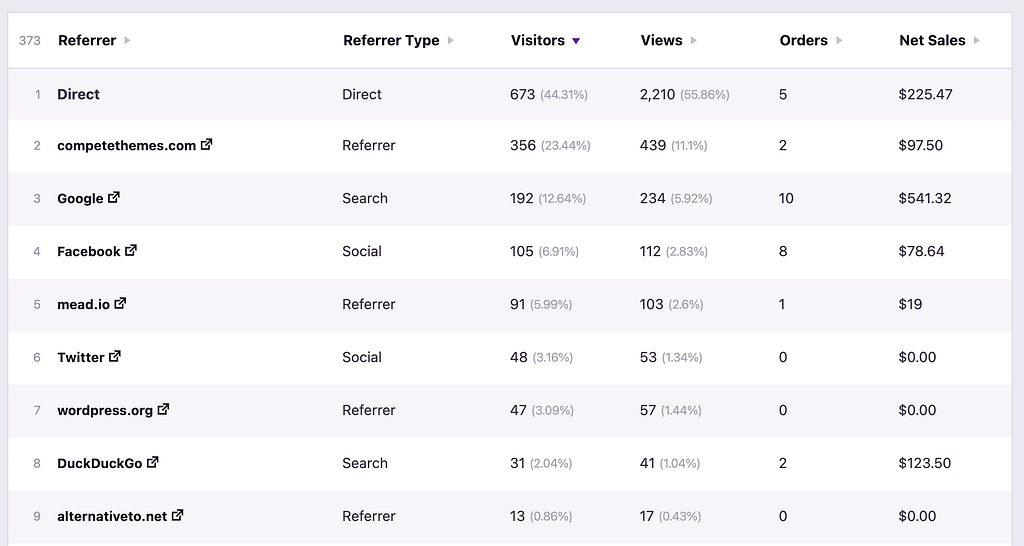 The best part is that this tracking is fully automated, so all you have to do is install the plugin.
If you want a simple way to get eCommerce analytics as well as standard web analytics for your WP website, Independent Analytics will be an excellent addition to your site.
2. WooCommerce Google Analytics Integration
If you want to continue using Google Analytics for your site, you may want to consider installing the WooCommerce Google Analytics Integration plugin.
This plugin does exactly what you'd expect: it adds your WooCommerce sales data to Google Analytics. This allows you to do a more complex analysis inside GA to find out where your sales are coming from and how you can improve your marketing strategy.
One thing that has to be addressed is the large volume of one-star ratings. The majority of these are due to issues with the initial setup. If you have multiple Google accounts, the process can be confusing, but it works fine once you get logged into the right account for your Google Analytics.
Considering alternatives like MonsterInsights charge hundreds of dollars for similar functionality, this free plugin is well worth trying if you'd like to integrate WooCommerce sales data into Google Analytics.
3. Pixel Manager for WooCommerce
Pixel Manager for WooCommerce is an awesome plugin to add tracking pixels to your site. It's highly advanced yet easy to use.
Implementing a tracking pixel, such as Meta's (Facebook), is difficult to do your own. The base pixel that appears on every page is easy enough, but adding specific pixels for different conversion goals can be tough, and that's where the Pixel Manager plugin comes in.
All you have to do is enter the IDs you're given from each advertising platform, and Pixel Manager implements the pixels for you. This makes it incredibly easy to track sales conversions from any advertising site.
In addition to Facebook, it also works seamlessly with Google AdWords, Twitter, TikTok, Snapchat, and more. Overall, it's a fantastic resource for any WC store owner using paid advertising.
4. WooCommerce Report
While WooCommerce has a data-rich dashboard of its own, the WooCommerce Report plugin gives you another way to view and analyze this data.
In the dashboard it creates, you can get a nice overview of your total sales, refunds, tax, and more. There are also more detailed reports for your customers, products, and orders.
If you want another way to view your data and get some unique insights about your customers, this could be a solid addition to your WooCommerce store.
5. Cost of Goods for WooCommerce
Cost of Goods for WooCommerce is an awesome plugin and stands out from others in this collection. Rather than offering data on your website's traffic or sales, it tells you about your expenses.
With this plugin, you can add a cost right below the field where you normally enter the product's price. There's also a bulk editing tool where you can quickly enter the cost for each product all on one screen.
On the WooCommerce reports page, you'll find two new columns for Cost and Profit. Being able to see your profit show up instead of only seeing your revenue is incredibly useful for monitoring the profitability of your eCommerce business.
If you don't already have something like this setup in a spreadsheet or other financial app, you should consider installing this plugin ASAP.
Get better WooCommerce data today
It bears repeating – the reporting dashboard in WooCommerce is well done. The improvements they made transformed it into a highly practical tool for analyzing the success of your store.
However, even with all the data it provides, there are still plenty of blind spots.
In particular, there isn't any data that connects your marketing efforts to your sales, and that's where Independent Analytics comes in. For tracking campaigns and marketing channel profitability, there's nothing easier than installing Independent Analytics Pro and watching the data pour in.
Explore the WooCommerce integration
If you use paid advertising, you'll also want to grab a copy of the Pixel Manager plugin, which works amazingly well for tens of thousands of WooCommerce shops already.
For Google Analytics lovers, the WooCommerce Google Analytics Integration is a straightforward solution once you get through the installation process.
And here's one last recommendation for the Cost of Goods for WooCommerce plugin, which will help you find the profitability of your products, not just the revenues.
Thanks for following this guide on the best reporting and analytics plugins for WooCommerce. Drop a comment below if you have any questions or additional recommendations.