Tired of your current analytics plugin?
There are lots of free MonsterInsights alternatives for WordPress.
In fact, there are plugins that are much faster, more privacy-friendly, and easier to use.
We've included an overview of each plugin, including how it compares to MonsterInsights and Google Analytics.
Keep reading to find out which plugins topped our list.
Because there are numerous reasons to switch from MonsterInsights, this list is divided into plugins that use Google Analytics and those that don't.
MonsterInsights alternatives without GA
These are the best plugins to switch to if you want to track your visitors without using Google Analytics.
Independent Analytics
Independent Analytics uses its own tracking code to record visits on your site, and this comes with some major advantages over using Google Analytics.
For starters, it's privacy-friendly and does not use cookies. Next, it is way faster because it doesn't make an external request to a heavy tracking script. In fact, you will see virtually zero difference in your site's load times after installing it, and your site will load faster after switching from MonsterInsights.
And since Independent Analytics is a WordPress plugin and not an app, you don't have to add a tracking code yourself. Visitors are recorded automatically, and your metrics show up right inside your dashboard.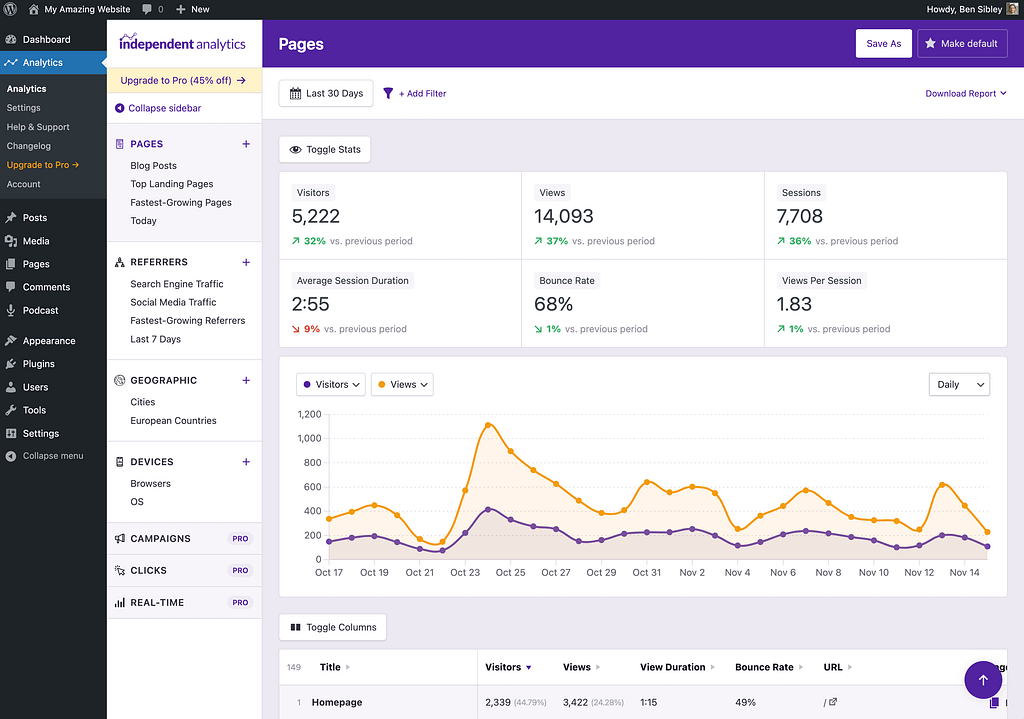 There's also a dashboard widget that includes an interactive chart, your total views, and total visitors.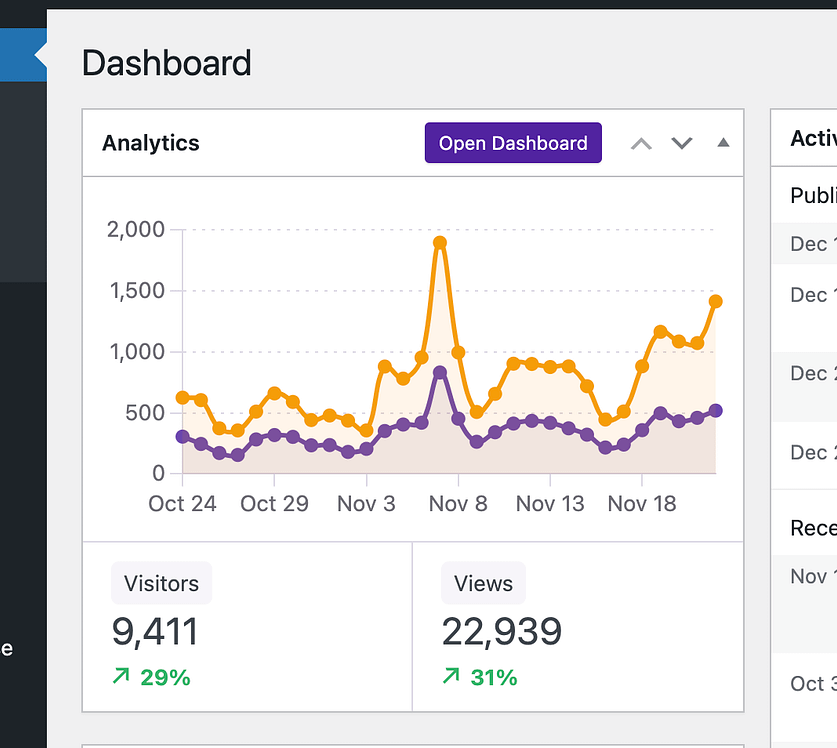 This makes it easy to get a snapshot of your traffic or dive deep with filters and sorting whenever you want.
Overall, it's a simpler and lighter alternative to MonsterInsights, which implements the heavy Google Analytics tracking script on your site.
If you want to give it a try, you can download Independent Analytics from our site or use the button below to find it on wordpress.org.
Matomo Analytics
Matomo has been around for a while as an open-source alternative to Google Analytics.
It can require technical expertise to set up on your server, but as a WordPress user, you get to skip the installation process entirely thanks to their free WordPress plugin.
As a mature analytics platform, Matomo includes a huge volume of features. There's real-time analytics, reporting on your visitors' browsers and devices, eCommerce tracking, goals, funnels, forms, and more.
If you want a robust alternative to MonsterInsights, Matomo could be a good choice for your site.
WP Statistics
WP Statistics is another great way to track your visitors without using MonsterInsights or Google Analytics.
This plugin records a ton of metrics, including visitor geolocations, search traffic, browsers, and top search terms. The dashboard is a bit outdated, but you'll find plenty of data to optimize your site with.
An advantage of using this plugin is that it starts tracking views immediately without any configuration required. And as an alternative to Google Analytics and MonsterInsights, you don't have to create a new account on another site or implement a tracking code yourself.
MonsterInsights alternatives with GA
Those were all great plugins if you want to stop using both MonsterInsights and Google Analytics.
Here are some alternatives if you want to continue running Google Analytics on your site.
GA Google Analytics
GA Google Analytics is extremely simple and does little more than add your tracking script. If you don't want an analytics dashboard in WordPress and you'd prefer to just visit the Google Analytics interface, this plugin is for you.
What's great about this plugin is that it lets you copy & paste your tracking code into an input to record visits. This is also true for the newer Google Analytics 4 platform.
Other plugins like MonsterInsights require you to connect your Google Analytics account, and while it seems simpler, it's often more complicated and can result in outright failure when a simple copy & paste can do the trick just fine. Just keep it mind that since you're using GA, you'll need to install a cookie consent plugin for GDPR compliance.
If you want a no-frills solution to add Google Analytics to WordPress, try GA Google Analytics.
SiteKit
If you want a more comprehensive integration with Google Analytics, it makes sense to go straight to the source and install the official Site Kit plugin by Google.
Site Kit has an advantage in that it integrates numerous Google services with WordPress. For instance, MonsterInsights shows you data from Google Analytics, but Site Kit also includes data from Search Console, AdSense, and PageSpeed Insights.
If you enjoy using these tools, it could help you better optimize your site by seeing them all in one place. And, of course, you can always access the full dashboards whenever you need more in-depth data.
This plugin has received its fair share of negative reviews because of difficulties with the authentication process, and of course, people give Google less leeway than small developers.
Analytify
Analytify is another good choice if you want a MonsterInsights alternative for WordPress.
Like the MonsterInsights plugin, it integrates with Google Analytics and outputs this data in your WordPress dashboard. What makes it a great plugin is its ability to clarify data in simple and easy-to-read reports.
For example, Analytify gives you separate dashboards for your audience, conversions, acquisition, engagement, and monetization. It's a cool way of breaking things up and makes it a bit easier to navigate than the Google Analytics dashboard
That said, if you ever want to dive deeper into your data, you always have the option of visiting Google Analytics directly.
Which alternative to MonsterInsights is Best?
In the end, your choice of plugin is going to depend on whether or not you want to use Google Analytics.
If you want to break away from GA, we think you'll love Independent Analytics. It's free, fast, and privacy-friendly.
Learn more about Independent Analytics
On the other hand, if you still want to use Google Analytics for your site but you don't want any bloat or reports in your dashboard, GA Google Analytics is probably the best solution for you.
Learn more about GA Google Analytics
Thanks for reading this guide on the best MonsterInsights alternatives for WordPress, and if you have any questions about them, feel free to post in the comments section below.