Want to know if your marketing tactics are working?
With campaign links, you can find exactly how many visitors and sales you're getting from each tactic. In fact, it lets you track sales by individual links.
This fine-grained measurement makes it possible to create highly optimized campaigns and learn more every day about the efficacy of your marketing tactics.
Even though this info is extremely valuable, there are just a handful of WordPress plugins that can help.
In this collection, we've assembled five of the best WordPress campaign tracking plugins, which will help you create campaign URLs, discover how often they're being clicked, and attribute eCommerce sales to them.
Let's get started with our first recommendation.
1. Independent Analytics
Independent Analytics is a free plugin we created that adds an entire analytics suite to the WordPress dashboard. It's easy to use, GDPR-friendly, and won't slow down your site.
In regards to campaign tracking, there are a few ways Independent Analytics can help.
In the free version, you can see traffic from each of your referrers, making it easy to tell how successful your marketing tactics are.
To see traffic from your campaign URLs, the Pro version includes a Campaign report listing metrics for every campaign URL that sent your site a visitor.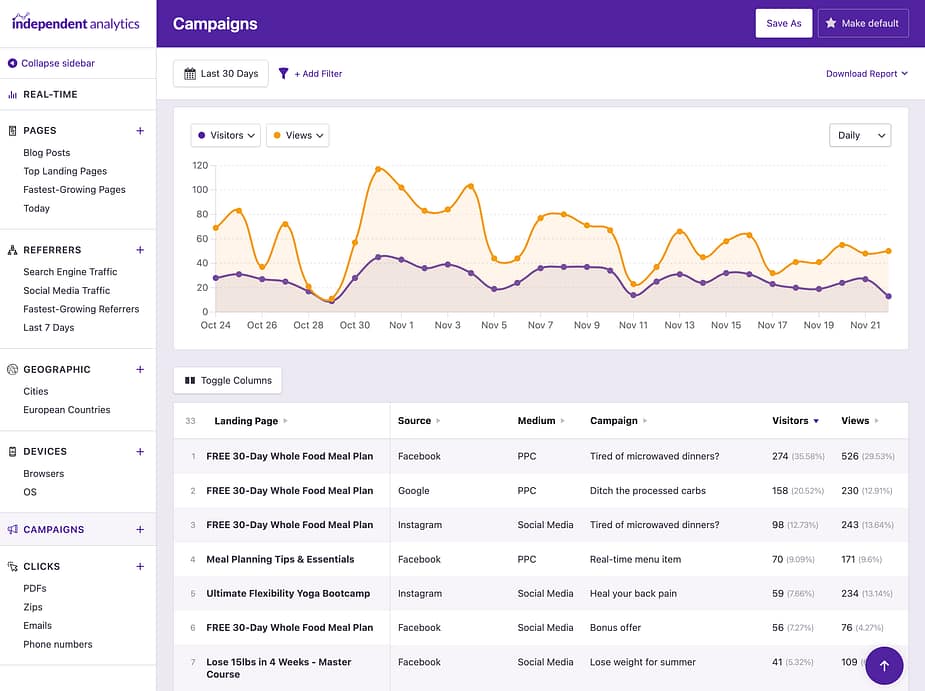 From this report, you can plainly see how many visitors each campaign link sent to your site and review metrics like session duration and bounce rate. If you use WooCommerce, you'll appreciate its ability as a UTM tracker that can display the net sales and conversion rate for each campaign too.
If you're using campaigns extensively, you'll be creating a lot of unique links, which can be time-consuming. That's why you'll appreciate that IA Pro also includes a dedicated campaign builder with the option to re-fill the form with previous campaign data, so it takes only seconds to create new variations of existing campaigns.
If you're ready to make a small investment in growing your website, the campaign tracking functionality in Independent Analytics Pro will be an awesome way to create and track new marketing campaigns.
2. UTM Leads Tracker
UTM Leads Tracker is a neat plugin for anyone selling with WooCommerce or Easy Digital Downloads. It lets you connect your sales to the campaign links that brought the customers to your site.
When viewing an order in the admin dashboard, you'll see a new widget in the right sidebar. This widget shows you the details of the campaign link that led to the sale if any did.
With this info, you can plainly see which campaigns are generating sales and which products, in particular, they're selling. This makes it simple to understand which campaigns are working best.
While this eCommerce tracking plugin works great for WooCommerce and Easy Digital Downloads, they are the only platforms supported so far. There also isn't a good way to view aggregated data, so you'll have to visit each order individually to see the referring source. Besides these small downsides, it's an awesome plugin, especially considering that it's completely free!
3. Campaign URL Builder
When using campaigns, you're bound to create a lot of URLs, and you're likely to create numerous variations of each URL. For instance, you might use the same campaign name for a dozen FB ads but swap out the "Content" parameter for each one.
When making campaign links, it quickly becomes tedious to create each one from scratch. Not to mention, it's easy to make spelling mistakes, creating annoying inconsistencies. That's where this plugin comes in.
Campaign URL Builder makes life easier by adding a campaign creation form right inside the WP dashboard. Even better, it lets you save your Sources and Mediums for reuse. You can simply choose one of your existing sources or mediums instead of typing them out again.
If you want a faster and more organized system for creating campaign links, grab a copy of this free plugin today.
4. Campaign Tracker for WordPress
This premium plugin adds a handful of helpful features for understanding the performance of your links with UTM parameters.
For starters, it shows you the campaign for each WooCommerce sale generated on your site. It also works with form plugins, like Gravity Forms and Ninja Forms, so you can see which campaign URLs are generating the most form submissions.
Another great feature is the User Journey reporting. This lets you see the full history of a visitor who submitted a form or purchased a product. For instance, you can see exactly which pages they viewed and how much time they spent on each page.
While this plugin has tracking capabilities that aren't compatible with GDPR, it can provide extremely useful data for any business not required to follow EU regulations.
5. EDD Campaign Tracker
This plugin is a must-have if you run an Easy Digital Downloads store. It fully integrates campaign data throughout EDD's various menus and reports.
Like other plugins listed here, EDD Campaign Tracker will show you the referring campaign when looking at an order. It also adds a "Campaigns" column to the main Orders page, allowing you to quickly scan your recent sales and see which campaigns generated the most sales.
Lastly, this plugin lets you filter your sales reports by the campaign, so you can see a sales chart for individual campaigns over any date range you want.
This plugin will be an excellent addition to any WordPress site selling digital products with EDD.
Which campaign tracking plugin is best?
As you've seen, there are lots of ways to upgrade how you use campaign URLs for your business.
If you want one plugin to create campaign links and track the traffic and WooCommerce sales they lead to, try out Independent Analytics:
Get started with Independent Analytics
If you want an alternative plugin for creating your links, check out Campaign URL Builder, and for connecting sales to their referring campaigns, UTM Leads Tracker should work nicely.
Thanks for reviewing this list of the best campaign-tracking WordPress plugins, and feel free to post below if you have any questions.