Stuck between these analytics solutions?
At first glance, it may be hard to discern the differences.
But there are some stark contrasts between these tools that will have long-lasting effects on the success of your website.
In this guide, we'll dive into the details and explain exactly what makes each product unique. By the end, it will be clear whether you should install MonsterInsights, Google Analytics, or Independent Analytics on your WordPress website.
Let's dive in!
MonsterInsights VS Google Analytics
For starters, let's establish that MonsterInsights is not an alternative to Google Analytics.
Google Analytics is an analytics platform that tracks all your visits, and MonsterInsights integrates the tracking with WordPress.
This means you have to use Google Analytics to record visits with MonsterInsights, but you don't have to use MonsterInsights to use Google Analytics.
When it comes to integrating Google Analytics with WordPress, there are dozens of free plugins to choose from, which raises the question, "Why should you use MonsterInsights?"
There are a few good reasons.
Why use MonsterInsights?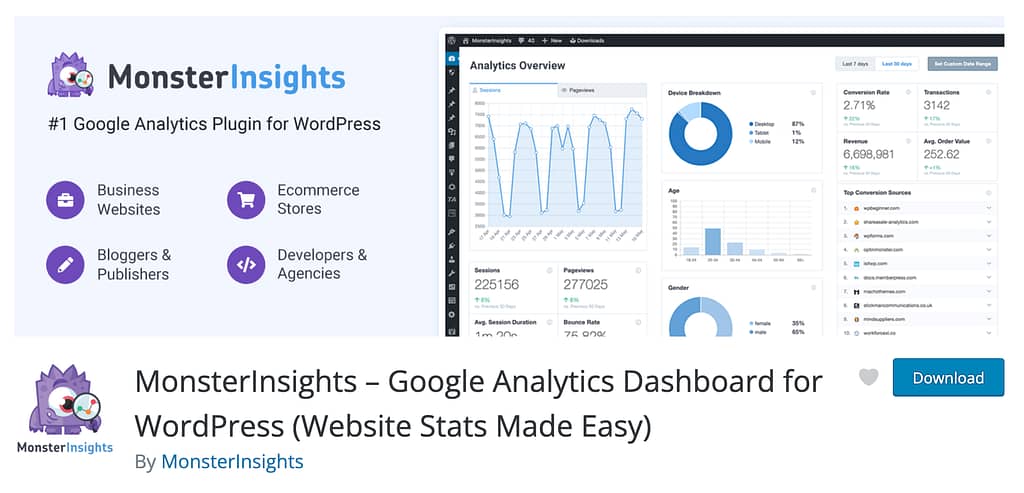 While it's not difficult to add a Google Analytics tracking code to WordPress, using a plugin does make it easier.
But besides the simpler integration, MonsterInsights has two main benefits: the reporting dashboard and more advanced paid integrations.
Analytics dashboard inside WordPress
The Google Analytics dashboard is complex and takes a while to learn, and yet, most people only want to check their top pages and traffic sources.
MonsterInsights simplifies the experience greatly by putting these reports directly into the WordPress dashboard.
For most users, this dashboard is easier to read and more accessible than logging into their Google Analytics account.
The only drawback is that there aren't tools for more detailed analysis, but you can always login to Google Analytics for that.
Advanced integrations
Another reason for using MonsterInsights, and why I have personally paid for it in the past, is that it has paid add-ons for advanced integrations like eCommerce tracking.
For example, you can't record WooCommerce and Easy Digital Downloads sales in Google Analytics without writing some Javascript yourself.
Even as a developer, this is a huge pain because of how confusing the Google Analytics ecosystem is. It's nice to skip the technical stuff and install a paid plugin instead.
While MonsterInsights is a great plugin for integrating Google Analytics with WordPress, it does have some serious drawbacks.
Why you shouldn't use MonsterInsights
MonsterInsights makes Google Analytics easier to use, but it also inherits some major flaws.
GDPR violations
Google Analytics is outright illegal in certain countries in the EU, like France and Austria, because of the way Google uses the data you record. It's likely to be outlawed in additional countries in the EU as digital privacy laws like GDPR become more stringent.
High add-on prices
Second, MonsterInsights gets expensive if you use the paid add-ons. For instance, it costs $199 to get eCommerce tracking and the price increases to $399/year after the first year.
Basic analysis
Third, MonsterInsights doesn't include tools for deeper analysis, like filtering, so oftentimes, you have to dive into the complex Google Analytics dashboard to find answers.
Performance cost
And lastly, MonsterInsights slows down your site because it loads numerous external Javascript files from Google's servers.
Ironically, Google's own PageSpeed tool will warn you that these files are slowing down your site.
How to avoid these issues
Google Analytics has ruled the world of web analytics for so long that most people are used to these drawbacks, but it doesn't have to be that way.
These are all issues we considered deeply when creating Independent Analytics, which we are proud to say addresses each and every one.
MonsterInsights VS Independent Analytics
Independent Analytics is free for all WordPress users and is available on the official plugin repository.
It differs from MonsterInsights in a few critical ways.
No Google Analytics
The most important difference is that Independent Analytics does not use Google Analytics. It records visits to your site itself and saves the data in your database rather than Google's.
Better for privacy (GDPR)
In regards to privacy, the biggest issue with Google Analytics is that they use your analytics data for other internal projects. As a MonsterInsights user, you don't have any control over what Google does with your data.
With Independent Analytics, your data is created and stored entirely on your site, so there is no communication with outside servers. Furthermore, cookies are not used, and no personally identifiable information is stored, making it a GDPR-friendly analytics solution.
Zero performance impact
What makes MonsterInsights slow down your site are the external files it needs to load from Google's servers.
In contrast, Independent Analytics doesn't load a single file. Instead, it makes one REST-API call, which is triggered from an inlined Javascript snippet. This happens silently in the background, so there is no impact on your site's rendering or perceivable load time. Switching from an external analytics tool to Independent Analytics should speed up your website by a small degree.
Stats & analysis in the WP dashboard
One way in which MonsterInsights and Independent Analytics are similar is that they both add analytics reports to the WordPress dashboard.
Here's what the Independent Analytics dashboard looks like:
What makes the Independent Analytics dashboard different is that it's dynamic. You can filter and sort the data on any page, whether you're viewing your top pages, traffic sources, or visitor geolocation report.
There's also a simplified dashboard widget that gives you an overview of your recent performance.
True WordPress integration
Another important distinction between Independent Analytics and MonsterInsights is that IA is truly integrated with WordPress.
Since Google Analytics watches your site from the outside, it can only report on your URLs. The extent of the MonsterInsights integration is that it displays this data inside your WP dashboard.
Independent Analytics is radically different.
The Independent Analytics platform runs inside WordPress, so it knows everything about your site that WordPress does.
This means that instead of a list of URLs, it can show you page titles, authors, and post categories alongside your metrics.
This makes the reports easier to read and enables you to filter your data in interesting ways. For instance, you can see the performance of blog posts in a specific category, search results pages, or articles published by a certain author.
More affordable
MonsterInsights and Independent Analytics are freemium plugins, meaning they both have a free version and a paid version with additional functionality.
Independent Analytics Pro adds numerous features such as campaign tracking, real-time analytics, and WooCommerce integration. It's much more affordable than MonsterInsights and is currently on sale.
Which analytics solution is best for you?
If you're still wondering which analytics solution to choose, here are some parting thoughts.
If you'd like a simple way to track your site's analytics and view this data in your dashboard, it doesn't get any easier than Independent Analytics. All you have to do is install it, and tracking begins immediately. It won't violate GDPR or slow down your site.
Get started with Independent Analytics
On the other hand, there's no debate about the functionality offered by Google Analytics vs Independent Analytics. GA is a much more mature and advanced platform, and you may prefer it if you need features like funnels and segmentation.
Lastly, if you need the advanced features GA offers but also want a simple way to integrate it with WordPress, then MonsterInsights will be a good choice.
I hope this analysis of MonsterInsights VS Google Analytics VS Independent Analytics has clarified the differences for you.
If you still have questions, please post in the comments below. Thanks for reading!