In this article, you'll find a collection of the best GDPR-friendly Google Analytics alternatives for WordPress.
But before we dive into the products, it helps to know what makes other analytics solutions more GDPR-friendly than Google Analytics.
There are three things, in particular, that make these plugins more privacy-friendly than Google Analytics.
1. Other uses of visitor data: First, Google Analytics has gotten in trouble with the EU because they don't sufficiently anonymize visitor data, and they match it with data from other products to create a more robust user profile. The problem with Google Analytics isn't what you do with your visitors' data; it's what they're doing with it. None of the tools listed here do anything with your user's data besides storing it for you.
2. Tracking across the web with cookies: On a related note, Google Analytics uses cookies that track people around the web. Most of the tools here do not use cookies, and those that do only use them to count unique visitors.
3. Saving personal data to the database: Lastly, these products either collect user consent before tracking personal data or thoroughly anonymize any personally identifiable information. For instance, it's impossible to track the number of unique visitors your site gets without using cookies or IP addresses in some way. If one of the products below uses the visitor's IP address, it encrypts it and uses this unique ID instead of storing the plain IP address.
Now that you know what makes these tools more privacy-friendly than Google Analytics, here are our top recommendations for WordPress users.
Independent Analytics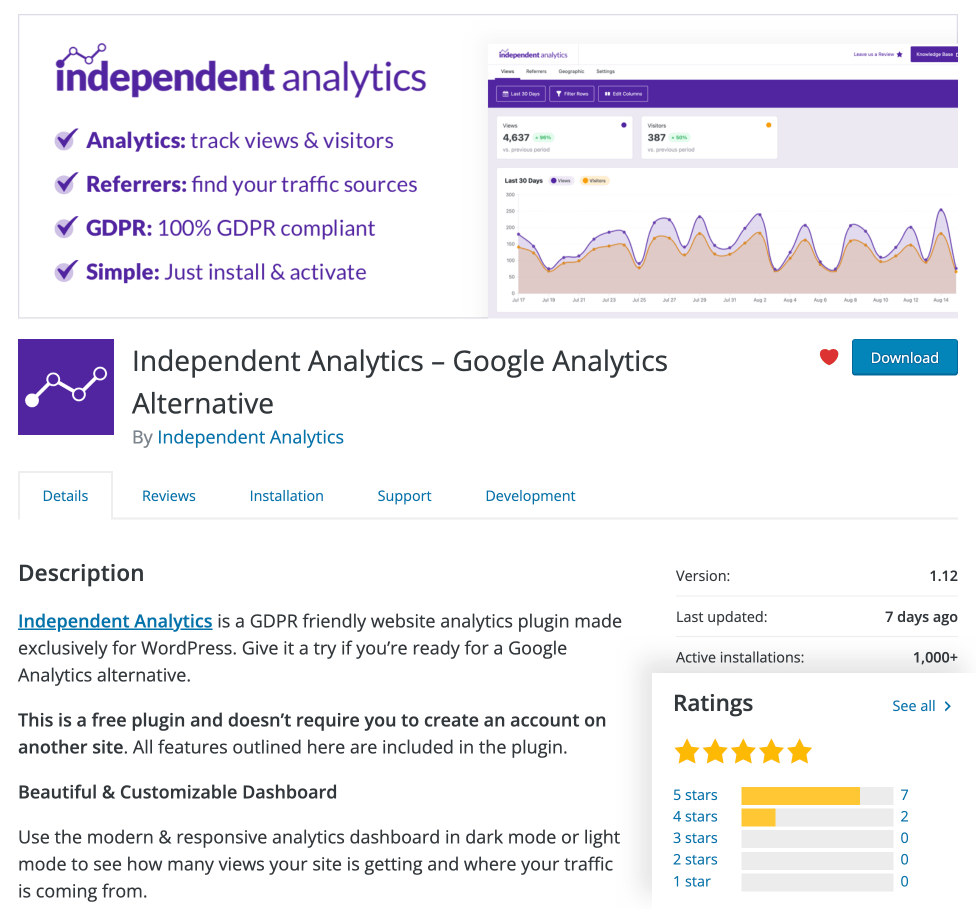 If you need a GDPR-compatible analytics plugin, check out Independent Analytics. It's a great privacy-friendly alternative to Google Analytics for anyone using WordPress.
In terms of GDPR compliance, Independent Analytics doesn't use cookies or store personally identifiable information. In order to track unique visitor counts, the visitor's IP address is combined with their user agent and thoroughly encrypted to create a unique and non-identifiable string. This identifier is saved to your database to recognize future visits and provide an accurate count of unique visitors.
And unlike third-party analytics scripts, this data is recorded entirely on your server without being transferred to or from any other location. If you're in the EU, you don't have to worry about if your user data is being sent to the US or anywhere else. As long as your site is hosted in the EU, then Independent Analytics is going to be running in the EU, creating and storing the data on your server.
Beyond GDPR compliance, Independent Analytics also offers page and referrer reports, geodata, and has virtually zero impact on your site's load times.
Matomo
Matomo has both a cloud version and an on-premise version that allows you to record and store data entirely on your server. As a WordPress user, integrating Matomo's cloud tracking is extremely easy, thanks to the availability of the Matomo WordPress plugin.
Rather than avoiding the tracking of personal data, Matomo has a different approach. You can enable personal data tracking and add a consent form to ensure that it is okay. This is different than in Google Analytics, where your visitors' data is used for other purposes outside of your organization. It is possible to request consent instead and then track personal data without violating regulations. This may be a better solution to make a GDPR-compliant WooCommerce store, which naturally collects a lot of personal info.
If you want an analytics solution that has configurable privacy settings, Matomo may be a good alternative for your site.
WP Statistics
WP Statistics is another great alternative to Google Analytics for WordPress websites.
With WP Statistics, you get a dashboard with all manner of analytics about your visitors. You can find a chart showing your daily visitors, your recent visits, the top referring sites, and your search engine traffic.
In terms of data privacy, WP Statistics hashes the visitor IPs and stores these anonymized values in the database. This is a common practice and allows them to count unique visitors without saving visitor IP addresses in the database.
Statify
Statify offers the most data privacy possible since it only tracks views. Unlike the other plugins that encrypt IP addresses, Statify doesn't need to do this because it doesn't record how many unique visitors arrive on your site.
While Statify does offer superior privacy, it comes at a cost. You can't see how many people visited your site, their geolocations, or any other data beyond a simple page view count.
If you have minimal requirements for your analytics, Statify will be a great plugin that is guaranteed to meet GDPR regulations.
Koko Analytics
Koko Analytics is a lightweight plugin for tracking your site's traffic.
In order to count your site's unique visitors, it uses cookies, but these cookies don't store personal information about the visitor or track them around the web the way Google Analytics does.
The use of cookies is also optional, but if disabled, it will prevent the plugin from recording unique visitors.
A major benefit to using this plugin is that it doesn't send your data to any third-party servers. All of the data is recorded and saved entirely on your site without any outside communication. As a WordPress plugin, it's also open source, so you are free to make your own modifications if you'd like.
Fathom Analytics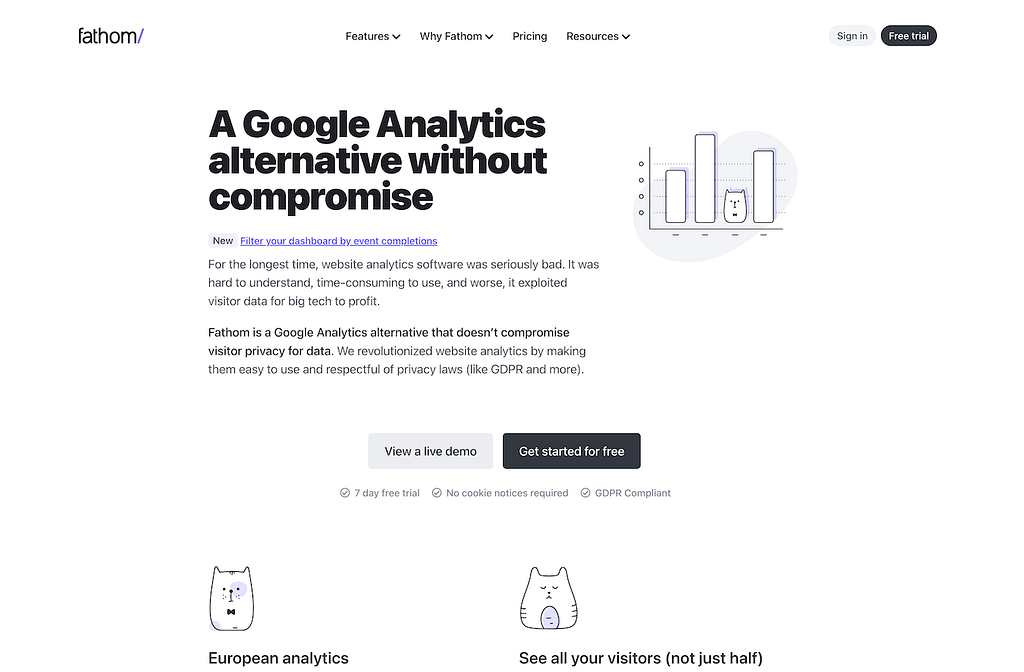 Fathom Analytics takes privacy very seriously, and they've done an excellent job at building a compliant analytics platform.
With Fathom, you'll get a simple and easy-to-read analytics dashboard that includes page views, visitors, and events. They do this without cookies and while processing EU data entirely within the EU. They count unique visitors by saving securely hashed signatures of visitor IP addresses, which they reset every 24 hours.
The event tracking in Fathom is a great feature and is fairly easy to implement if you're comfortable adding a Javascript snippet to your site. They also have a WordPress plugin that makes integration simple. The only drawback is that their solution is paid only, and pricing starts at $14/month.
Simple Analytics
Simple Analytics is another major player in the analytics space. As the name suggests, they offer a simple interface that shows you things like your total visitors, page views, and average time on the page.
Simple Analytics has been around for a few years now and has accumulated additional features like events, device reporting, and geographic data. While its functionality still pales in comparison to Google Analytics, it's gotten quite robust.
Like Fathom Analytics, the Simple Analytics platform is hosted entirely in the EU, and they hash visitor IP addresses in order to count unique visitors without using cookies. And like Fathom, their platform doesn't have a free version, and pricing starts at $19/month ($9/month billed annually).
Which GDPR analytics plugin is best?
For over a decade, Google Analytics was the only popular analytics solution on the web, but this has changed a lot over the past 3-4 years.
There are now lots of privacy-first analytics tools to choose from, and as a WordPress user, you have even more options than with other content management systems.
After reviewing these tools, we hope you think Independent Analytics is as awesome as we do. As an entirely free plugin, you can download it right now and track your first visitor in just a few moments:
Download Independent Analytics
If you want to try out another solution, you can base your choice largely on whether you want to use a WordPress plugin or a third-party platform.
If you'd prefer a plugin, then WP Statistics and Koko Analytics would both be good choices. Otherwise, you can use either Fathom Analytics or Simple Analytics to record your visitors and conversion events.
Thanks for browsing this collection of the best GDPR-compliant Google Analytics alternatives for WordPress. I hope it helped you find the perfect new tool for your site!