If you sell to customers in the EU, your store needs to achieve GDPR compliance.
In the past, this has been a major pain, but more recently, some amazing GDPR plugins for WooCommerce have been developed.
Now, it's as easy as installing a plugin, running a scanner, and customizing a cookie banner. It's a feat you can accomplish in an hour or two rather than a week.
If you're looking for the very best WordPress plugins to make your store privacy-friendly, here are our top picks.
1. CookieYes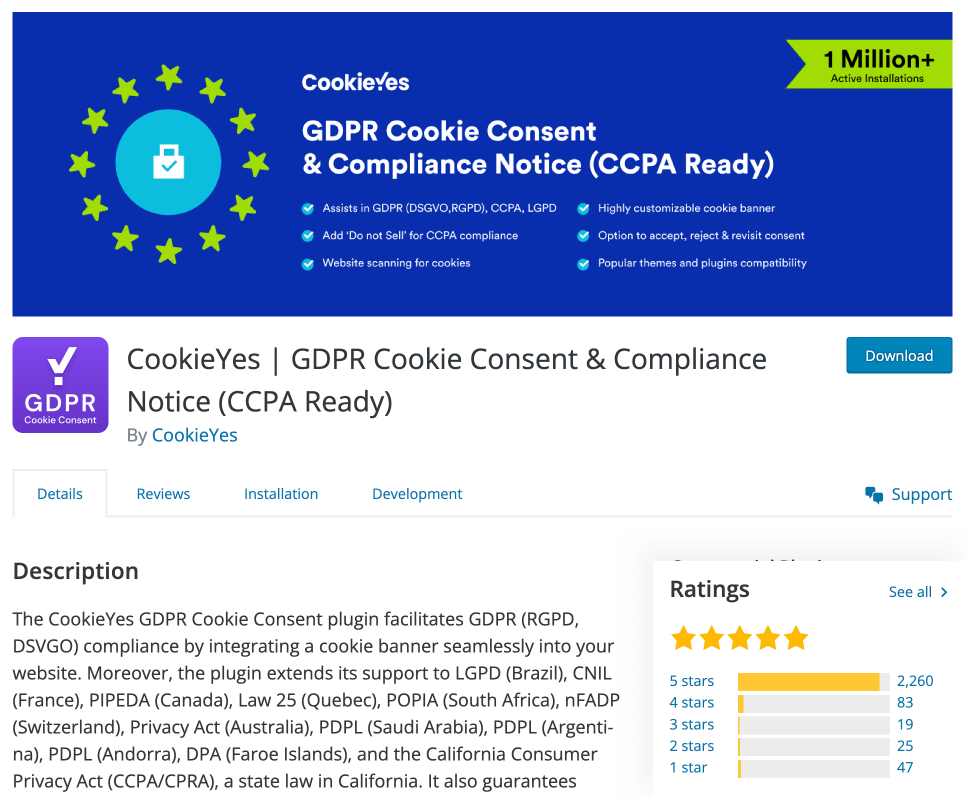 CookieYes is an awesome plugin for making your website GDPR-compliant. In fact, it can help with more than just GDPR laws; it's also suitable for compliance with:
DSVGO
RGPD
CCPA/CPRA
LGPD
PIPEDA
and more
No matter what the privacy laws are in your country, this plugin is sure to help you meet the accepted standards.
What makes this plugin even better is that you get free access to their web app, which adds more advanced and powerful functionality. For instance, it can automatically scan your site for cookies and add them to your block list. This is much faster and less error-prone than manually figuring out what cookies your site uses and blocking them.
If you want a powerful and user-friendly tool to manage privacy policies and cookie consent on your site, CookieYes will be a great addition to your site.
2. Independent Analytics
Independent Analytics is a bit different than the other plugins listed here. It's a GDPR-friendly analytics plugin that records all your traffic without using cookies or communicating with external servers.
With Independent Analytics, you'll be able to see important metrics for your store, like the number of visitors, bounce rate, average session duration, views growth, and more.
You also might appreciate that Independent Analytics is an alternative to Google Analytics, so you can drop GA entirely if you want to.
There's also a Pro version that includes WooCommerce sales data, allowing you to see how many sales you've made from each traffic source, country, and campaign.
If you're looking for an analytics solution to keep your store GDPR-compliant, try Independent Analytics.
3. WP Cookie Notice
Another great plugin to help your WooCommerce store reach GDPR compliance is WP Cookie Notice. It can add a fully customizable cookie popup to your site in a matter of minutes.
The most notable feature is the cookie scanner, which automatically finds the cookies your site uses. Manually finding your site's cookies isn't just tedious; it's also a technical process, so using an automated scanner is a superior solution.
It also recognizes common third-party scripts from popular WordPress plugins and web apps, which it can block automatically for you.
Another awesome feature is the ability to show or hide the notice based on the visitor's geolocation. This lets you show the notice to visitors in EU countries (or California visitors due to CCPA regulations) while omitting it for visitors elsewhere.
Overall, it's an awesome plugin and should be a top choice when updating your WooCommerce store for GDPR compliance.
4. GDPR Cookies for WooCommerce
GDPR Cookies for WooCommerce is a simple plugin for making your WooCommerce store GDPR-compliant.
With this plugin, you can quickly enable a small popup that asks visitors for tracking consent. You can customize the colors, text, and location of the cookie notice.
Another neat feature of this plugin is the ability to search for your site's cookies by ID. This makes it easy to find and block the right ones until users approve of their use. If they don't click the button to give consent, none of the tracking cookies will be loaded.
If you run a WooCommerce store with EU customers, this could be a simple and effective way to ensure every visitors' privacy is respected.
5. WooCommerce EU Cookie Consent
The WooCommerce EU Cookie Consent plugin is a good option if you want something simple and lightweight.
After activating this plugin, you only need to configure a few settings to add cookie management and achieve GDPR compliance.
First, you'll create a consent popup that will enable cookies only after the visitor complies. Alternatively, you can simply use cookies by default and notify users of which cookies are being used.
Next, you can customize the colors and text of the buttons and message. This allows you to change the wording and style of the banner to match your site's brand.
With that done, you can check "add cookie consent banner" off your list and move on to other tasks to grow your WooCommerce store.
Which WooCommerce GDPR plugin is best for you?
Now that you've seen some of the best WooCommerce GDPR plugins, what do you think?
The CookieYes plugin has an impressive amount of functionality and is widely used. However, you may prefer the simplicity of another plugin listed here.
And if you want to avoid using cookies at all, you may want to consider switching from Google Analytics to a cookieless tracking tool, like Independent Analytics.
Get started with Independent Analytics
If your analytics tool is the only source of cookies on your site, then switching to Independent Analytics will let you drop the cookie banner altogether.
Thanks for reading our guide on finding the best GDPR plugin for WooCommerce stores, and if you have any questions, please leave a comment below.