A Visitor is a person who visited your site.
For example, if someone visits a blog post, clicks to the homepage, and then clicks on another post, this would be recorded as 1 visitor and 3 views. If they come back tomorrow and view two more posts, this would be totaled as 1 visitor and 5 views.
When viewing the dashboard, the Quick Stats above the chart will tell you how many unique visitors were found in the given time period. When you hover over a day in the chart, you'll see the number of visitors that are unique to that day.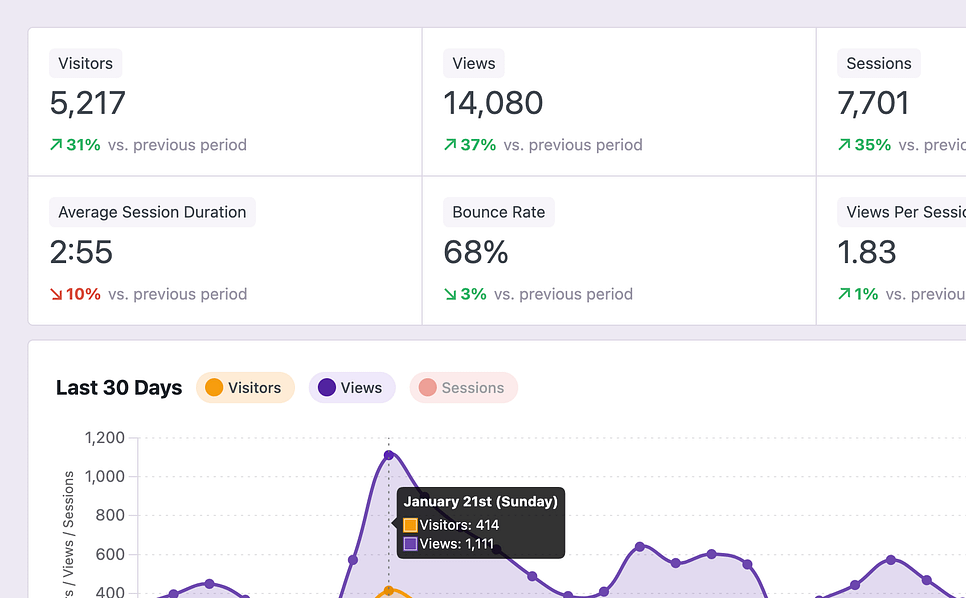 Because the chart shows the number of visitors that are unique to each day, the total will be higher than what you see in the Quick Stat above.
For instance, if the chart shows 30 days and you have 1 view every day from 1 visitor, the Quick Stat will show a total of 1 visitor and each day in the chart will also show 1 visitor. If you added up the chart visitors, you'd have 30. To restate, this is because each day in the chart shows the number of visitors unique to that day, while the Quick Stats show you the number of visitors unique to the selected time period (30 days in this example).
In practice, this is intuitive and is the same way Google Analytics displays Users.
Visitor counts aren't perfect
Like any analytics tool, the methodology for recording Visitors isn't perfect.
If a visitor arrives on your site from their laptop and then later with their smartphone, they will be counted as two separate visitors. Additionally, if they use a different browser, this will also cause them to be counted as a different visitor. These data collection imperfections are similar to the ones found in Google Analytics.
While the count is not perfect, it's still more than accurate enough to give you an idea of what's happening on your site so you can find insights and make valuable business changes.