Independent Analytics blocks logged-in users from being recorded, but that might not be enough.
You might also want to block your own visits from being recorded when you're not logged in, or you might have other team members that visit the site and skew your data.
For these reasons, Independent Analytics includes the ability to block IP addresses.
Here's how it works.
Devices with IP addresses that have been blocked can still access the site and use it normally. The only difference is that their activity won't be recorded in your analytics.
How to block an IP
To block an IP address from being recorded, start by visiting your settings page and locate the Block IP Addresses section.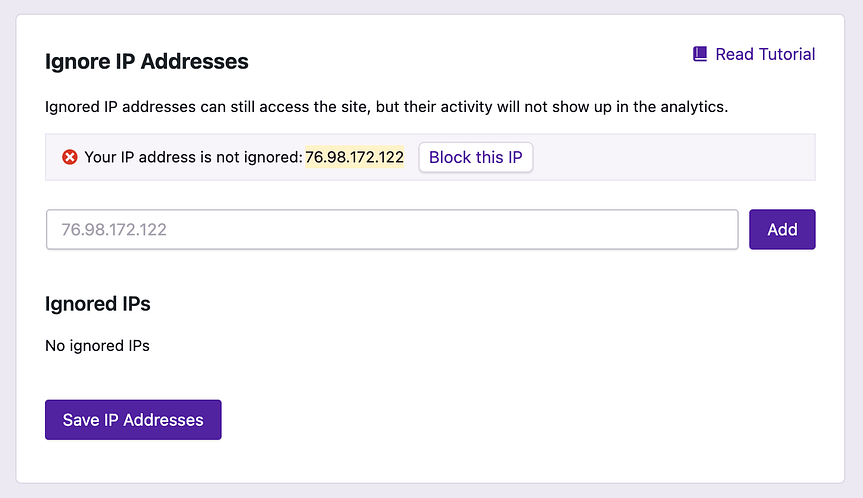 In the input, enter the IP you want to block and then click the Block New IP button.
You'll see it show up in the "Blocked IPs" section.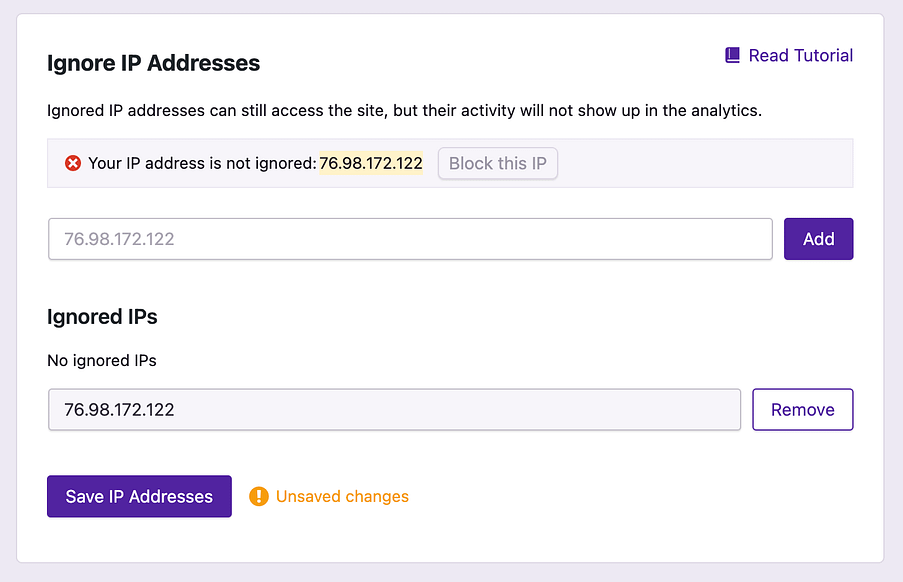 You can add as many IPs as you want, and when you're finished, click the Save IP Addresses button to start blocking.
If you want to start tracking an IP again in the future, click the Remove IP button to stop blocking it.
Using Wildcards
Independent Analytics also supports blocking dynamic IP addresses using wildcards.
A wildcard (*) will allow any number to take its place. For example, the IP address 76.98.172.122 will be blocked by 76.98.172.*.
Multiple wildcards are also allowed. For instance, that same client IP address would be blocked by 76.98.*.*.
Lastly, if the wildcard IP is shorter than the client IP, this will also block the IP address. For instance, the IP address 76.98.172.122 would be blocked by 76.98.*.
Please use wildcards carefully, as they have the power to unintentionally block more visitors than desired.