In 2010, I made my first website with WordPress.
Things were so different back then I used to rank third in Google for "SEO course," if you can believe it.
Over the following decade, I launched countless more WordPress sites, and while the internet changed a lot, a few habits stuck.
When making a new website, the first thing I'd do is install Google Analytics.
Without hesitation, I'd install it on every site, and it always went the same way.
I'd check my total visitors and my search traffic, but that's about it.
If I tried to dig deeper, I'd constantly hit roadblocks.
Why can't I see the events for each page?
Why do I have to manually calculate goal conversion rates?
Why do parameters split my URLs into dozens of new rows?
And more recently:
Why am I being forced onto a new platform?
Am I going to get sued for using this??
I was so used to struggling that I never stopped to ask myself, "why am I still using this tool?"
And that's when it hit me.
I'm having a hard time because Google Analytics is an enterprise tool.
I started using it in 2010 because everyone else was using it, and I never questioned my choice because it was free.
But…
Just because Google Analytics is free doesn't mean it's made for small businesses.
Google Analytics is a great tool if you have team members dedicated to using it, but for the rest of it, it's a terrible fit.
Most of us want something we can pick up and get business value from right away.
And why shouldn't we?
People are making movies, newsletters, and eCommerce stores entirely on their phones, and I'm sitting here wondering if I'm in the docs for the old version, current version, or next version of the same analytics tool I've struggled with for 12 years.
We deserve a lot more.
Everyone should have analytics that:
They can understand without training
Doesn't slow down their site
Complies with privacy regulations
Requires zero coding to implement
I looked around for tools that could meet these criteria, and while I found some nice alternatives, none of them were quite what I envisioned. It was that last bullet point where they all fell short.
The thing is, if you want powerful insights from your analytics, you'll always need custom development when using a URL-based analytics tool because it doesn't know anything about your site besides its URLs and the metrics it records for them.
To get richer data into people's hands without any coding, things have to be done differently.
And that's why we set out to build something new.
What we're building
Instead of observing sites from the outside, we wanted to create an analytics tool that could operate from the inside.
This meant integrating at the CMS level, and since WordPress is the most popular platform for non-enterprise websites, we decided to develop our analytics platform as a WordPress plugin.
The result is Independent Analytics.
Independent Analytics is:
And on that last bullet point, let me elaborate.
What makes Independent Analytics unlike every other solution is that it doesn't track URLs. Instead, it tracks your pages themselves, which we like to call page-based analytics.
With page-based analytics, the URL simply becomes a property of a page, which can be displayed alongside other attributes like the title, author, category, and more, all without any customization.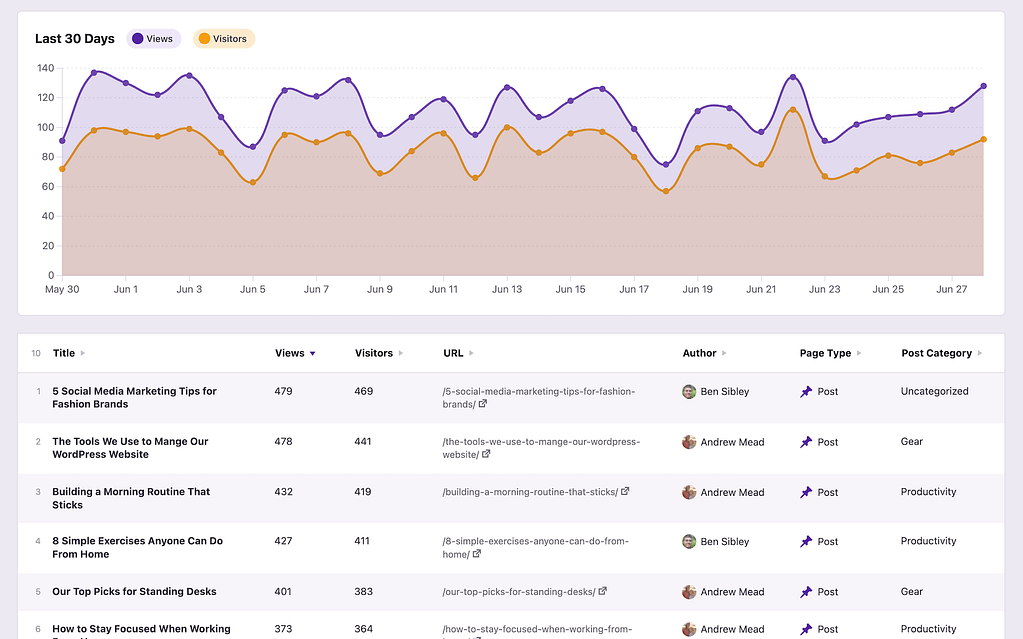 Things that are normally difficult with analytics are suddenly easy, like checking your views for all posts in a certain category or finding 404 errors and top search terms.
Thanks to the full integration with WordPress, there are a ton of valuable, business-boosting insights you can grab from these analytics without any configuration or custom development.
Download and use forever for free
We think that page-based analytics is a major evolution for how small businesses evaluate and grow their websites.
If you agree, you can try out Independent Analytics on your site or as many sites as you want and use it indefinitely for free.
Independent Analytics is a free WordPress plugin and will always be free to use on as many sites as you want.
As a WordPress plugin, it's easy to install via the zip file or by searching for it by name in your Plugins > Add New menu.
We launched just over a year ago, and since then, we've been hard at work adding powerful new features like geolocation data, campaigns, and lots more.
But we aren't even close to reaching our final vision yet.
If you want to keep up with our development, you can follow us on Twitter (X), Facebook, or Reddit.
And if there's anything you want to know before trying it out, you can contact us here, and we'll be happy to chat.
Thanks for joining us on this journey to make better web analytics for small businesses!