This feature is only available in the Pro version of Independent Analytics.
The HTML email report can be sent automatically on the 1st of every month.
Here's what it looks like:

As you can see, it includes the Quick Stats, a chart of your daily views, and a list of your top ten pages, referrers, countries, and campaigns.
Now here's how you can get this report into your inbox every month…
How to enable the email report
First, visit the Settings menu and locate the Email Report section.
In the Email Report section, start by choosing the time of day you want the email delivered. You can select any hour of the day using the Delivery Time option.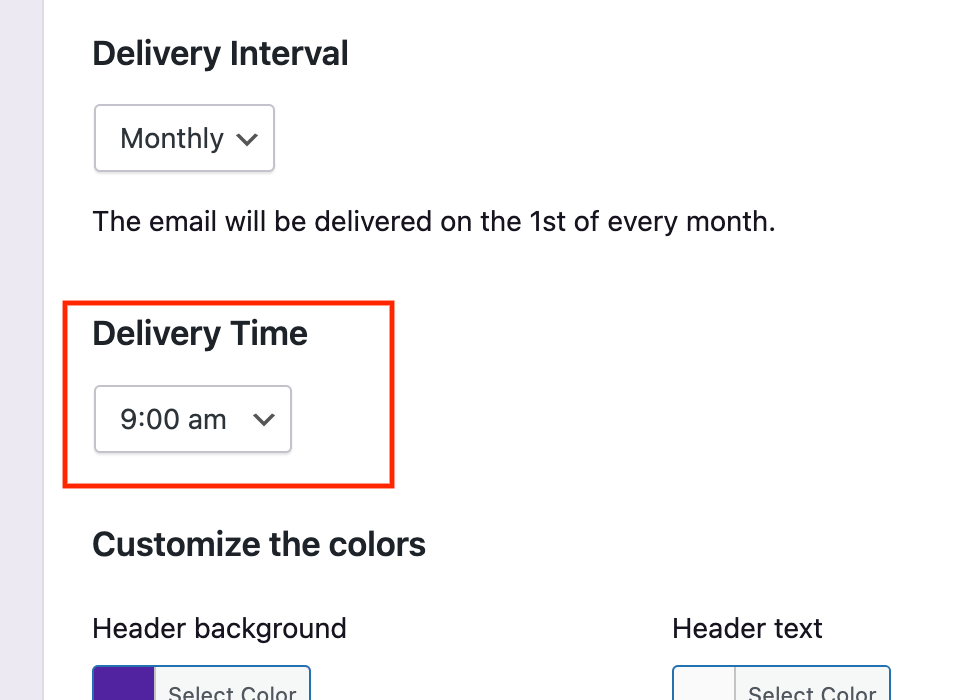 The email report will be delivered at this time on the 1st of every month if there is at least one email recipient.
To add a recipient, enter your email address into the Add new email address input, then click the Add email button. Repeat this for as many email addresses as you want, then click the Save settings button.
Once your email address is entered, you can click the Send test email button to receive a copy of the email to review. It will include a full report on your site's performance from last month.
On the first day of next month, the email will be delivered to each saved email address.
Customizing the colors
There are also six color settings available to customize the colors of the email.
We recommend using a primary color along with a brighter and darker variation of that color. For the text, use a very light or dark color that will have ample contrast with the background color.
For example, here's a look at what the email would look like with the purple header and sub-header backgrounds replaced with complementary shades of blue.
Privacy and deliverability
Independent Analytics Pro creates the email with your site's data and delivers it via your own website. Your data is never shared with any outside sources, and the email does not contain any images or external resources.
Since the email is delivered from your admin email address, you should experience excellent deliverability. However, if you experience any delays or your email reports get marked as spam, this can likely be fixed by installing an SMTP plugin, like WP Mail SMTP.