Devices Report
Compare traffic between device types, browsers, and OSes
Are my visitors using mobile or desktop?
Knowing what kind of devices your visitors use can inform all sorts of decisions.
The desktop design may not be a priority if 95% of your visitors use mobile devices, or vice-versa!
With a quick peek at the Devices report, you'll know where to focus your efforts.
View traffic by device type
Easily compare traffic between desktop, tablet, and mobile.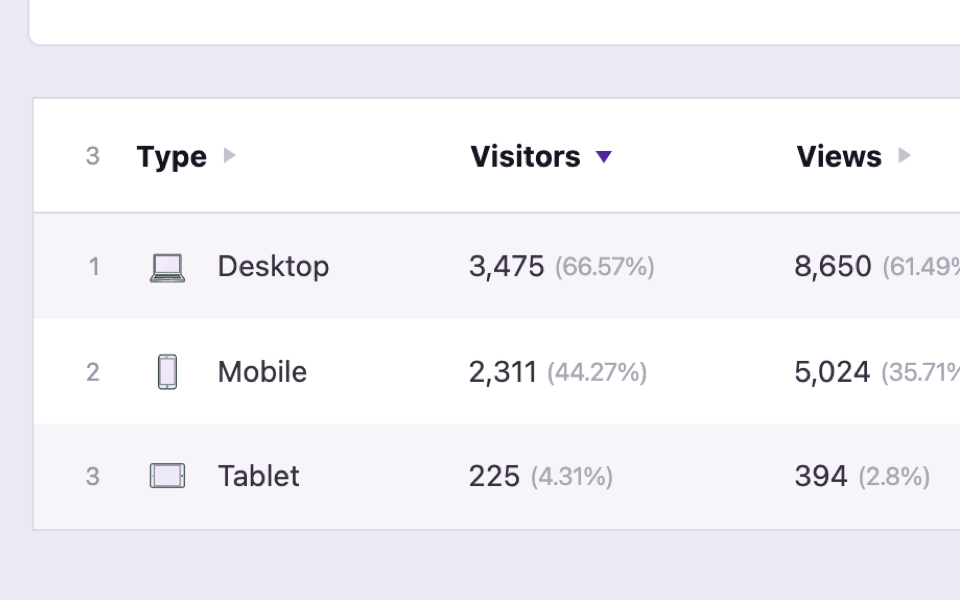 Browser data
Find out what browsers your visitors are using the most.
Discover popular OSes
See which OS is most popular amongst your visitors.
Filter & analytze further
Review session duration, bounce rate, and views per session for any device, browser, or OS.
Download Independent Analytics and ditch the legacy analytics tools
Get beautiful, user-friendly analytics right in your WordPress dashboard.
Frequently Asked Questions
Toggle FAQ

Are device models named in the report?

No, this data is not included. Device model data is very unreliable and we found that it was more misleading than helpful.

Toggle FAQ

What device types are recognized?

The recognized device types are desktop, tablet, mobile, smartwatch, and TV.
Start collecting insights today
Download the free Independent Analytics plugin
Or, visit the Plugins > Add New menu and search for "Independent Analytics" to install it directly from your WordPress dashboard.