Update: product updates are now published on our Changelog here.
This update has a smattering of small features. The most prominent of which is the new dashboard widget.
Dashboard widget
While the analytics dashboard is awesome for diving into your site's data and finding new insights, sometimes you just want to know how many views you got yesterday.
That's why we added the new dashboard widget: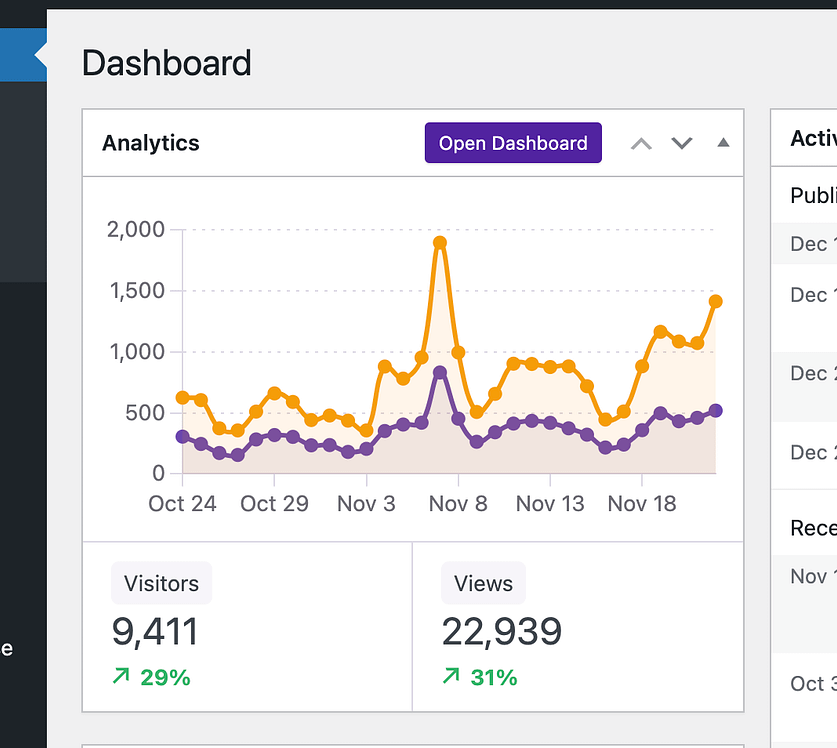 It displays a smaller version of the views/visitors chart and includes the Quick Stats as well.
This lets you get a quick look at your stats without having to open the full analytics dashboard.
If you've never edited a dashboard widget before, you can follow this tutorial to learn how to make changes: How to Reposition and Hide the Dashboard Widget
View counter
If you want to show off the popularity of your website, you can now add a public view counter to any post or page on your site.

The view counter is highly customizable and can be enabled via the Settings menu.
As you can see, there are a lot of options to control where it displays and what it says. There's even a shortcode, so you can output it in widget areas, PHP templates, or Elementor templates.
Here's the full tutorial if you want to learn more about how it works: How to Display View Counters on Your Site
Learn menu
You might only use Independent Analytics to occasionally check your views, but it's capable of a lot more.
With Independent Analytics, you can find 404 errors on your site, discover search terms your visitors use, and even find out what countries your visitors are from.
The new Learn menu makes this information more accessible so you can get the most out of your analytics.
All of those articles can be found here in the Knowledge Base if you're curious to dive in and learn a bit more about how Independent Analytics works.
Thanks for checking out another one of our updates, and remember to leave us a review if you haven't already.